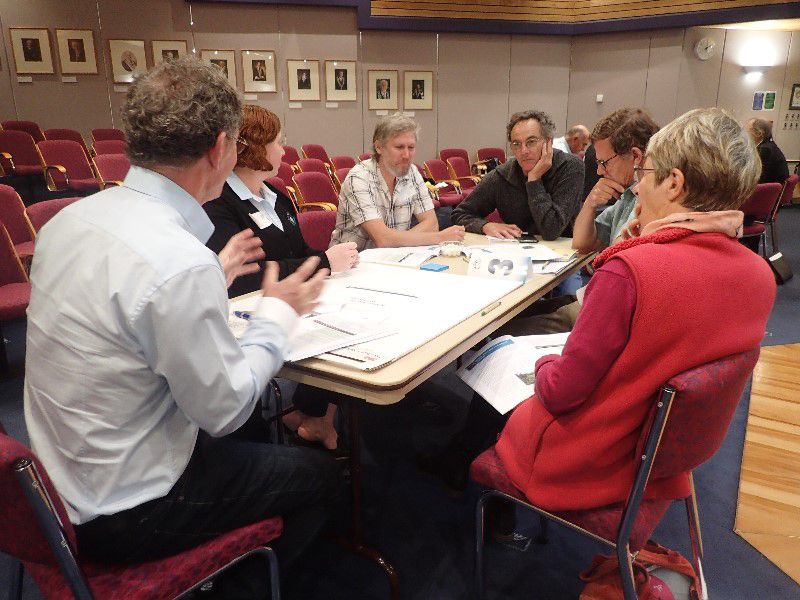 Posted on October 29, 2017
---
On the 28th of October, Wild for Taranaki members gathered at New Plymouth District Council Chambers for the 2017 AGM and Annual Biodiversity Forum. It was a fantastic opportunity to take stock and celebrate what has been a massive year for conservation in Taranaki. We are proud that many of these successes are a result of our members working together and helping each other out – this is what being Wild for Taranaki is all about!
Taranaki Biodiversity Trust Annual Report 2016/17
Wild for Taranaki is striving to be a strong voice for our member projects, and through the development of the Restore Taranaki Initiative, are about to commence a strategic landscape scale conservation initiative. A large focus for this year has been development of plans to support this in conjunction with Members. Some of the highlights from the past financial year include:
Welcoming new members NZ Native Forest Restoration Trust, Ngati tara Oaonui Sandy Bay Society, Pukeiti Rhodendron Trust, South Taranaki Underwater Club, and Taranaki Environmental Education Trust.
The Board met six times to develop plans and progress towards strategic objectives
Presenting about Wild for Taranaki at 7 conferences
Working to increase the profile of Wild for Taranaki and our members via social media and in the wider community.
Supporting a number of community plantings and community snorkelling events
Holding four workshops for members and the community in partnership with other organisations – Growing Great Volunteer Teams, Management of Kiwi in Plantation Forestry, the Taranaki Predator Hui; and Data Analysis reporting and document management
Approving 10 applications to the Community Biodiversity Fund
Coordinating the preparation of Regional strategies for Conservation Volunteering and Conservation Education.
Publishing the Restoration Planting Guide for Matemateaonga Ecological District.
If you would like a copy of the annual report, please contact us.
Member Round Up
It was great to hear a brief overview from each of our Wild for Taranaki members about what they have been up to over the past year. It really is amazing the amount of conservation work that is happening around our region. Long may it continue! Sharing success is one of the benefits of our collaborative approach, so Members, be sure to keep us in the loop; we would love to help promote your work via our social media channels and newsletter. At the Trust Board meeting earlier in the day, applications for membership to Wild for Taranaki were approved for Taranaki Enviroschools and Kaitake Community Board. At the previous meeting we welcomed Waihowaka Green Community Group! Welcome to the team! You can find out about all our members on our members page.
New faces and farewells!
The Wild for Taranaki Board are pleased to welcome Michelle Bird, from the Taranaki Kiwi Trust, and Phill Muir from Taranaki Federated Farmers as our newly elected board members. We look forward to working with you both!
This means we bid farewell to Kara Prankerd (South Taranaki Forest and Bird) and Allen Stancliff (Taranaki Fish & Game), who have both had a large involvement in the early stages of the development of the Biodiversity Accord and Wild for Taranaki. We thank them for their dedicated efforts and valuable input over the years, and look forward to continuing to work with them both as members of Wild for Taranaki!
Farewell also to our Amazing Biodiversity Projects Coordinator Sam Mortensen, who is finishing up slightly earlier than planned on the 3rd of November to have another baby. Thanks for all your hard work and dedication Sam we will miss having you at the office.
How to Mend a Kea – Book presentation by Janet Hunt
We were privileged to receive a presentation from renowned natural history author, Janet Hunt – who happens to be a proud Wild for Taranaki member as Chairperson of North Taranaki Forest and Bird. Janet shared some really interesting behind the scenes stories in writing her most recent book – How to Mend a Kea! The book celebrates the amazing efforts of the team at Wildbase to care for injured wildlife. It contains many of Janet's amazing images, and would make a fab christmas present!
If you would like to purchase a book, you can score a signed copy for $25 from the author herself by emailing Janet. Books are also available online or through a number of local book sellers.
Restore Taranaki Workshop
The focus of the afternoon session was to workshop the plan for the Restore Taranaki Initiative, to flesh out more detail about how Wild for Taranaki members would like to be involved. This was a very positive and productive session – thank-you to everyone for your enthusiasm and participation. We look forward to collating these discussions into the next planning phase prior to the official project launch in mid 2018. You can find out more about Restore Taranaki here.
Thank you to all the members and supporters of Wild for Taranaki for the work you continue to do on your own projects. We are excited for what the future will bring as the environmental movement in Taranaki and New Zealand continues to gain traction!